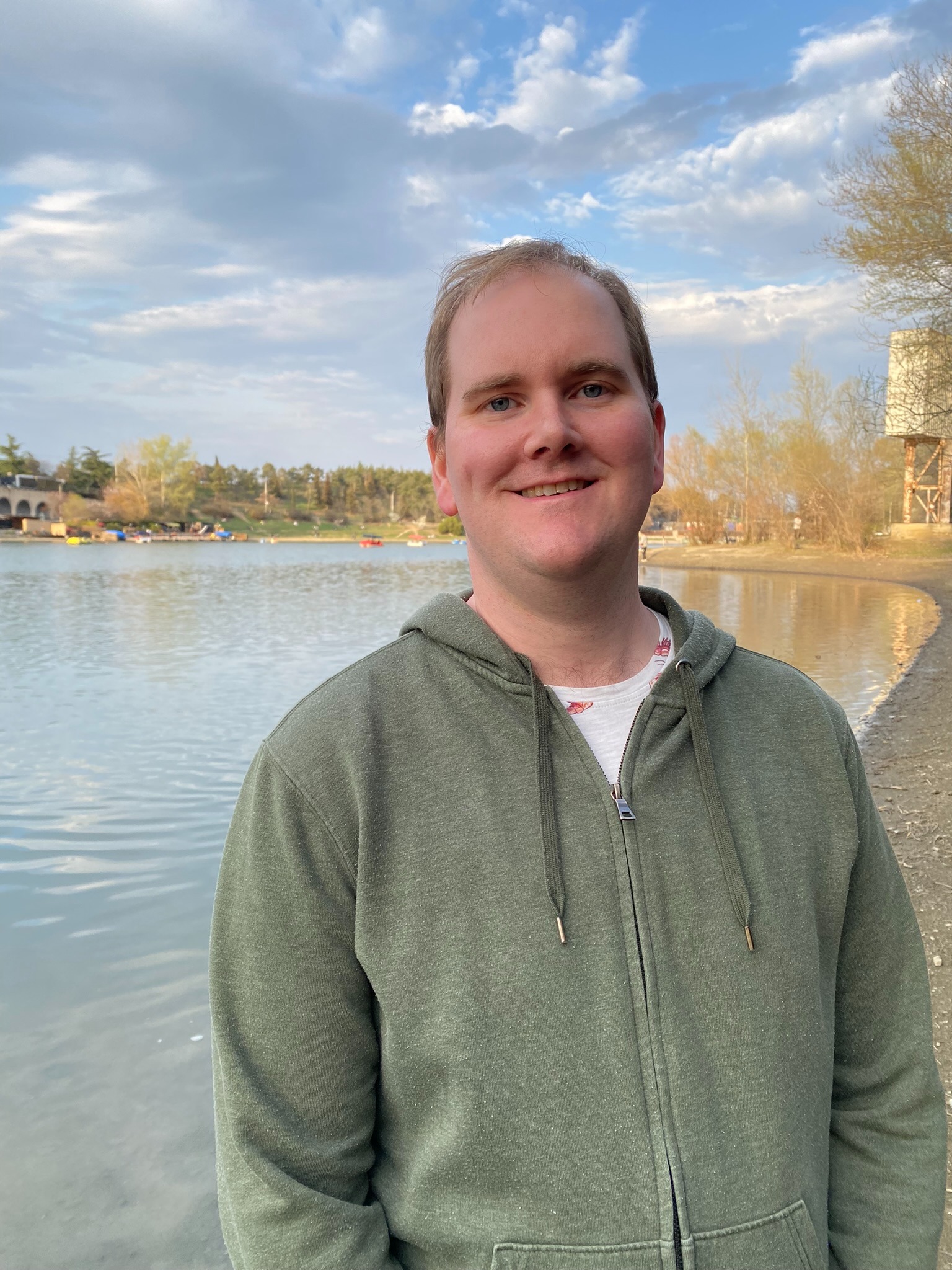 What people say about working with me:
Project Manager at Wargaming:
Your edits are thoughtful, despite the fact that you are new on the project. I can see that you try to improve the texts, not only correct grammar, which is great, and that's what we need for WoT Blitz, so please continue suggesting your improvements, they are welcome.
Managers at inDrive:

Joseph, I am looking through the proofread you've done and want to thank you for the options, initiative, and thorough work you do.
We appreciate:
1) Efficiency and high speed: tasks are done promptly and within deadlines
2) Understanding of our tone of voice and active application of our feedback and comments at work
We enjoy working with you as a person and appreciate how creative, polite, and supportive you are. Such a "shame" we haven't met earlier to start making our creative department better and better every day. We truly hope we will be able to continue doing it for a long time!
Project manager at TripleTen:
It was very nice working with you. You are a competent professional and a very nice person. I do hope that we'll have another project to work on together in the future! I value your devotion to the project and openness to new challenges.
Let me bring my motivation and dedication to your projects.
Put me to work today!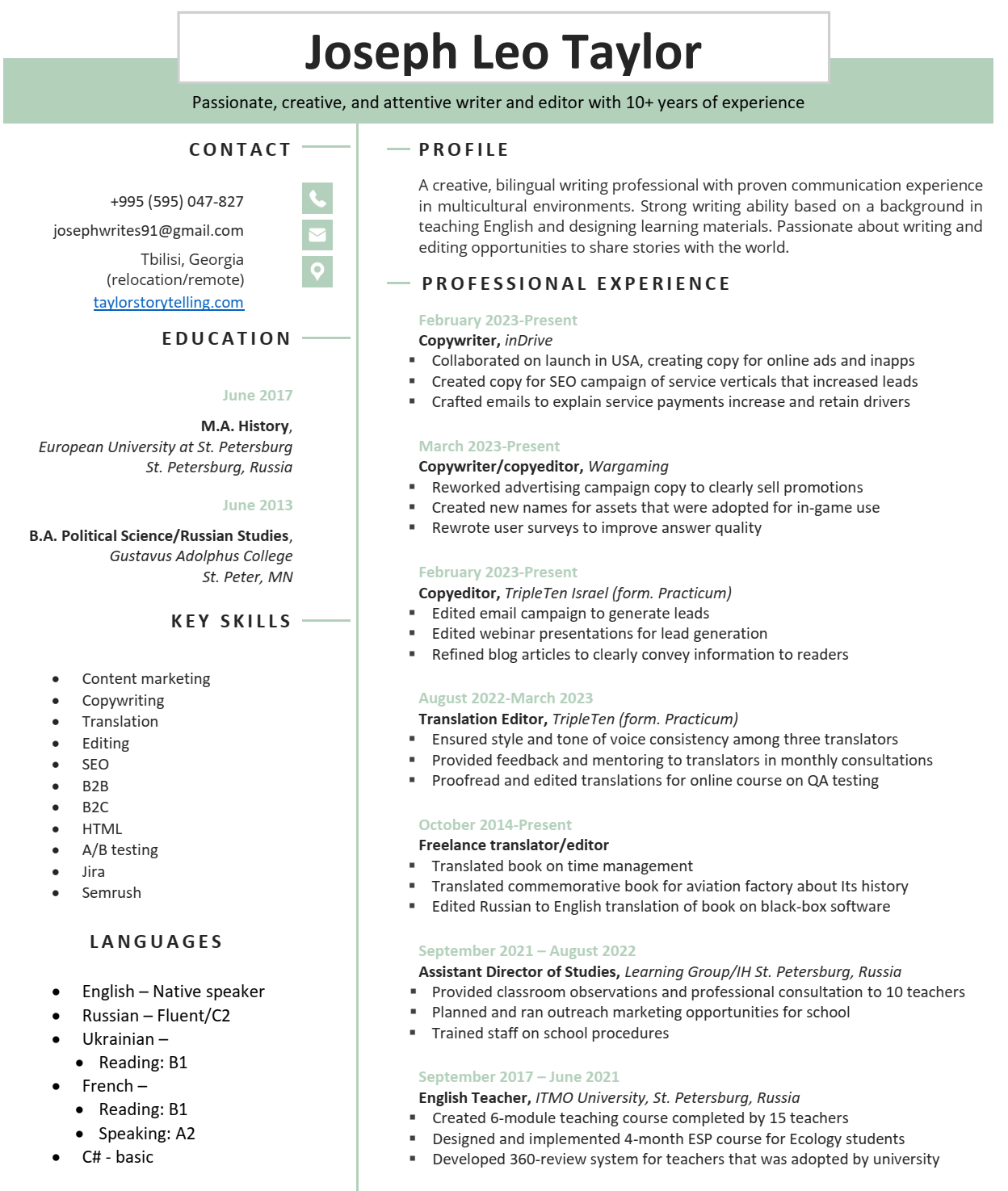 Wargaming.net
Before my current work with Wargaming, I taught a few English classes at one of their office pre-Pandemic. Three years later, I joined their partner team as a copyeditor and copywriter for their game World of Tanks Blitz. My job involves checking the texts' consistency with Wargaming's TOV and the terms used within the World of Tanks Blitz universe, as well as brainstorming names for new assets, including events, tanks, and maps.
The type of materials and projects I work with include:
articles
announcements
video scripts
push notifications
in-game commands
test builds (LQA - localization quality assurance)
The work is especially challenging when terms may seem incorrect according to conventional rules, but are necessary to fit Wargaming's voice and style. I collaborate closely with my online colleagues, clarifying terms and offering my suggestions. I am not just a proofreader, but a contributor as well. I make changes to texts to help them sound more natural and accessible for Wargaming's global audience. I have edited and collaborated on most of the texts for this year on the game's website. I've also listed a few samples below.
PUSH notifications
I write, translate, and edit PUSH messages that are sent to players and anyone who has downloaded the World of Tanks Blitz application. Working with these types of messages is a  delicate balance between finding attention-grabbing words, delivering the message, and staying within the character limits. I love it, because it presses my skills to the maximum. These are a selection of more recent PUSH messages I've worked on.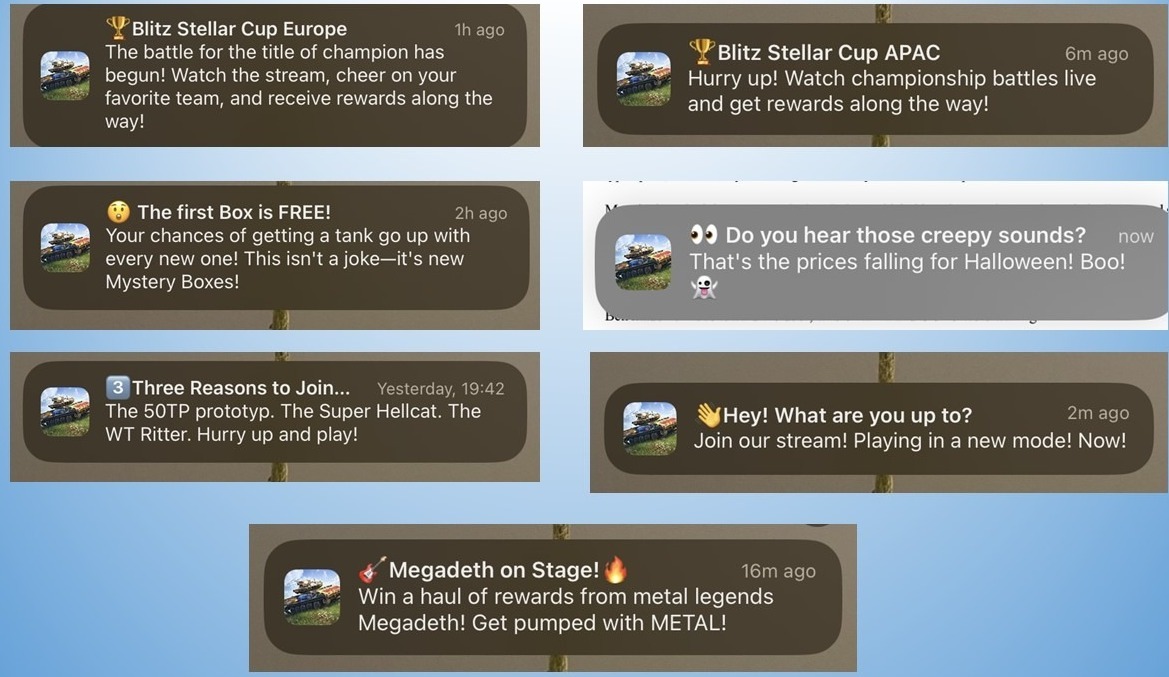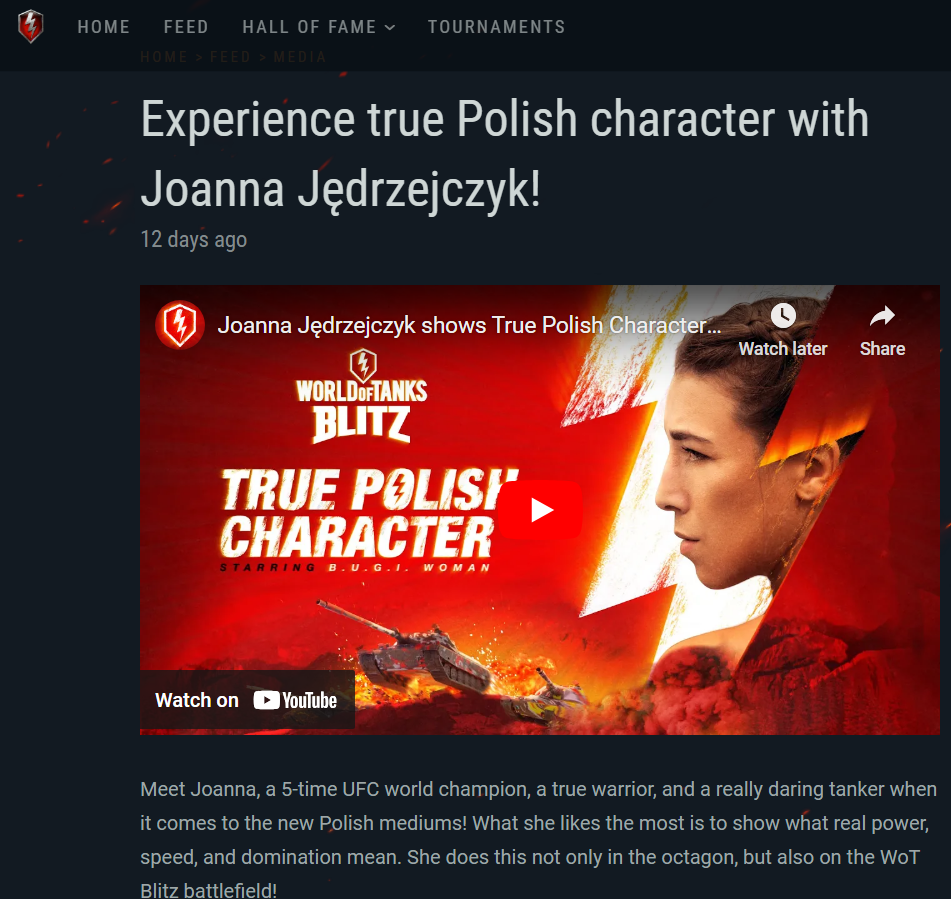 Celebrity Collaboration
Full text: https://na.wotblitz.com/en/new...
WoT Blitz collaborates with celebrities from around to world to engage players and introduce unique game assets, such as tanks and avatars. This text introduced the collaboration with Polish MMA athlete Joanna Jędrzejczyk. Editing this text involved some serious wordsmithing because the translation into English from Russian was written using Russian language conventions. I reworked the text and here it is!
Poetic Event Announcement
Full text: https://na.wotblitz.com/en/new...
This was a fun and challenging text to edit! The original contained a poem which needed to be translated into English. The translator created their own rhythm to match the original's intent, and I checked it to ensure it made sense. Beware Spooky October!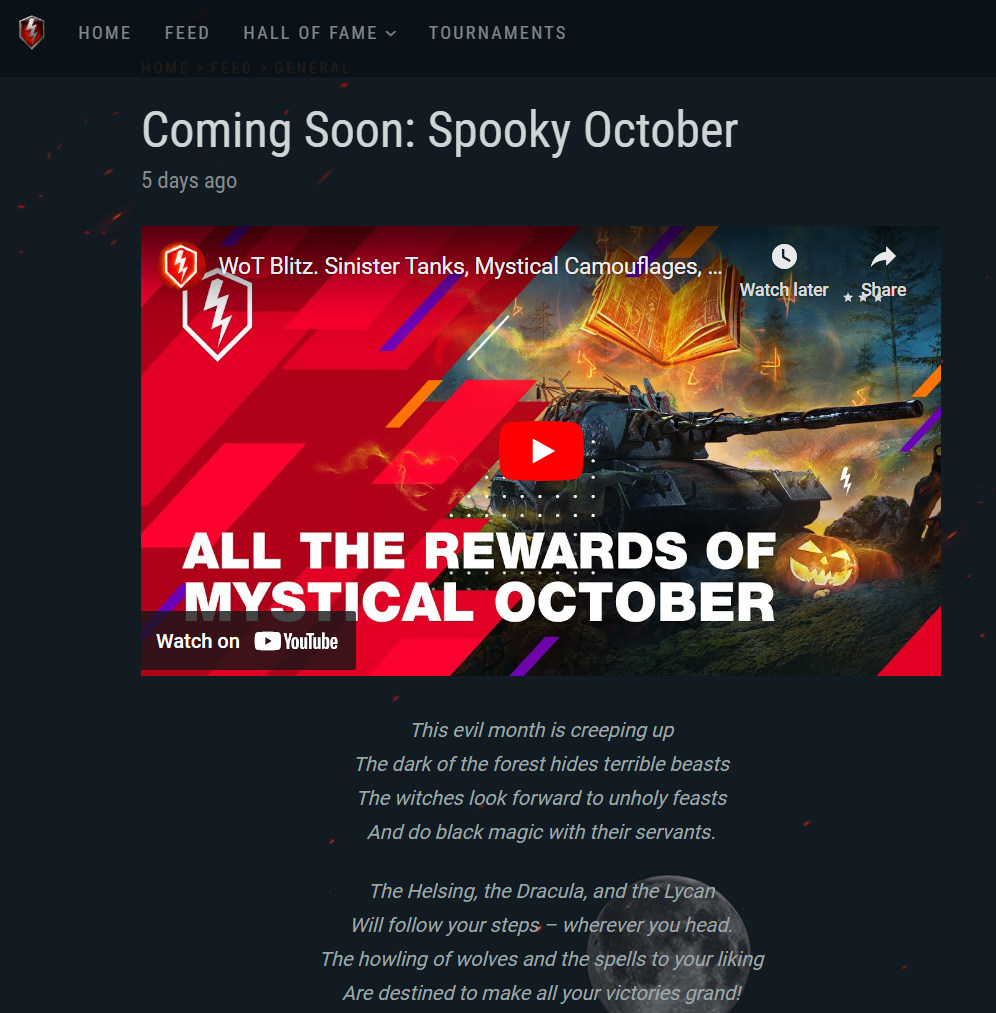 inDrive
inDrive (formerly inDriver) is a rideshare app that offers both drivers and passengers the unique opportunity to negotiate the price of their ride. Drivers can decide is the price is fair for the requested destination, while passengers can review the drivers who respond to their request to choose the one they like the most. I've thoroughly enjoyed writing copy for inDrive. They also now offer other services, such as courier and freight delivery. The company works in several regions, and I produce copy for a variety of audiences across the world. As part of the onboarding process, I thoroughly studied inDrive's TOV and corporate values (which are quite great, to be honest!). I reviewed examples of past copy to see how it connects with their culture.

Before starting to work with inDrive, I signed an NDA which they use to protect proprietary information regarding their services. Part of this agreement means I cannot share specific examples of my work with inDrive. Instead, I would like to provide descriptions of the work I have done, explaining the challenges I faced and my solutions to them.

PUSH Notifications
I write PUSH notifications for inDrive that are targeted at people who have downloaded the application. The target audience for these messages is varied, depending on the region and service. I compose messages each month for inDrive services to increase use. I also write messages to encourage users to make orders during special events and holidays. These include festivals, concerts, and sporting events.
These are the backbone of communication with users of the service. The pushes I write remind passengers of the benefits of using inDrive.
Pushes are challenging in that you have little space to work with and the thought involved in writing the two to three lines I can use is incredible. In accordance with inDrive's TOV, I like to keep my pushes witty and funny. For example, for sporting event pushes, I especially like joking that drivers should accept passengers, no matter their loyalties.
Emails

Pushes are challenging with their small space to work in, but emails are more challenging because I have a larger word limit. I focus on avoiding the temptation to use all the words I can in order to be succinct. Here are some examples of emails I've written:
Announcements of promos for drivers
In one of inDrive's regions, the company organized a promotion to increase the number of drivers using the service. They needed to complete a certain number of rides within a certain time frame (a month), in return for which they received a reward. My job was to briefly explain the rules of the promotion while calling them to follow the link for more information and to actually participate. There were also certain lexical restrictions I followed as per advice from inDrive's legal department.
I wrote a group of emails targeting three categories of users (both passengers and drivers): those who had downloaded the app but hadn't used it yet or had an unsuccessful experience, those who had used the app a few times, and more active users. There was a specific goal for each group (at least 1 ride, 3 more rides, or continued active use) which I needed to uniquely convey to each of the categories.
Apologizing for app issues
My most recent email and most challenging so far. inDrive users (specifically drivers) are facing issues with the app in a particular region. My task was to inform them that inDrive was aware of the issues, to assure users that the company was addressing the problems as quickly as possible, and to point them in the direction of the support team in case they had any questions or concerns.
I appreciated the importance  of this email, so I reviewed my previous email-writing experience for inDrive and read advice from experts on approaches for this type of communication. I decided to adopt a balance of humor (admitting how frustrating it is when apps don't work properly) while transition to a comment on being grateful for the drivers' loyalty to inDrive and finishing with assurances that the company is committed to improving the service.
Copy in and Copy out for banners and ads
Similar to push notifications, this type of copy has a small character limit. Unlike pushes, however, these texts are the first impression potential users may have with inDrive. No pressure, right? I take extra care to craft copy that engages and leads the audience to follow links to learn more about the service.
With inDrive, I enjoy that I can employ humor in this kind of copy. For example, the company introduced two new cashless payment options in one region, so employed jokes such as that passengers no longer needed to count change or worry about math to pay for their rides.
TripleTen (formerly Practicum)
I've been working with TripleTen since August 2022. I first started as an editor for their online QA Tester course. I was responsible for reviewing translations from Russian into English of the course materials to assure proper terminology and consistency with TripleTen's TOV and style. Since March 2023, I've been working with the TripleTen Israel marketing team, editing texts ranging from emails to banners and ads, as well as presentations for webinars. Using my knowledge of Practicum's TOV and style guide, as well as taking into account the specifics of the Israeli market, I ensure that all the copy is clear and concise for TripleTen's diverse audience.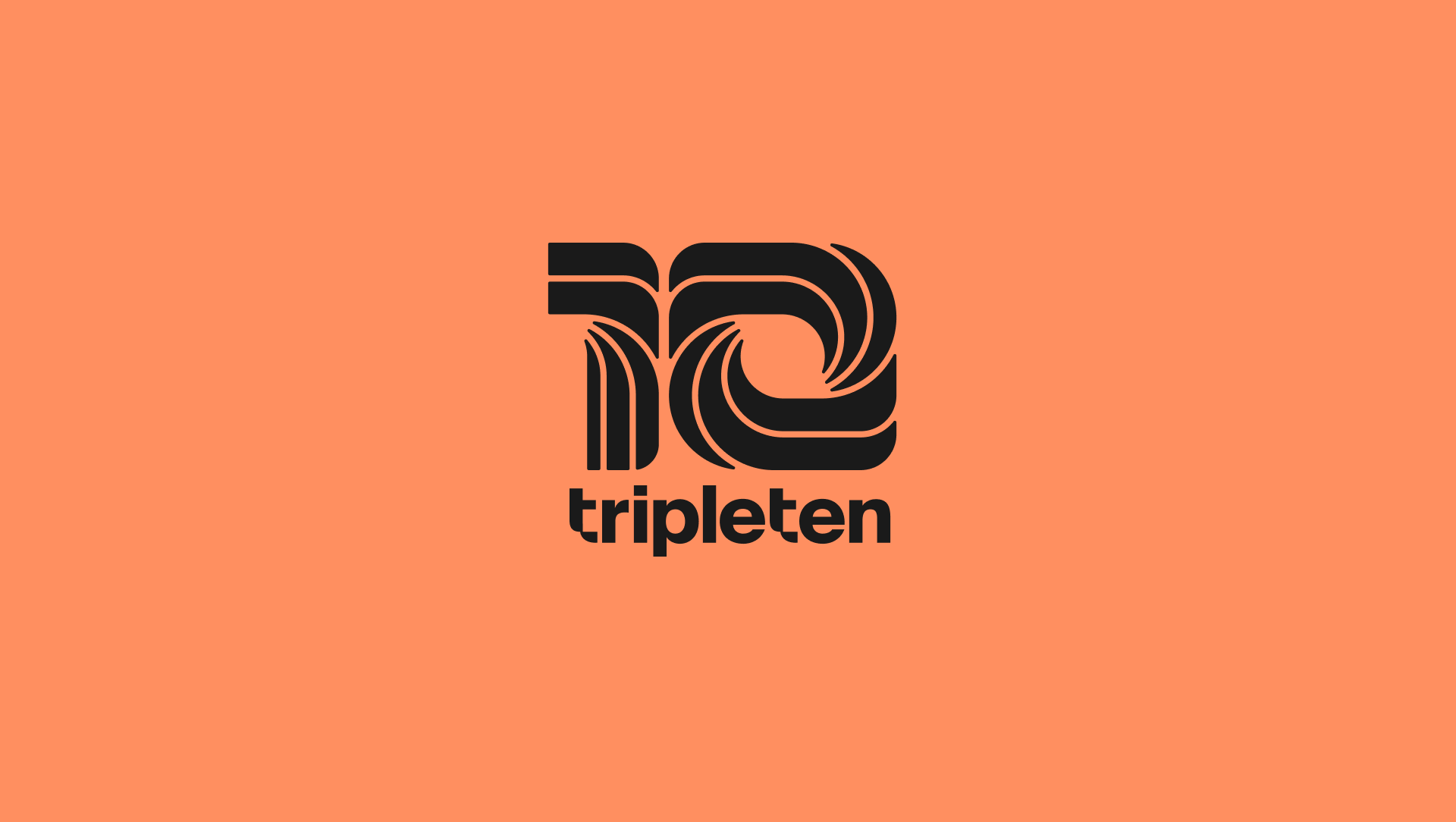 Social media ads
For each new start of their online courses, TripleTen launches ad campaigns on social media. It's important to ensure that the text delivers the desired message and brings new learners to the courses. I check all the ads and provide corrections and suggestions.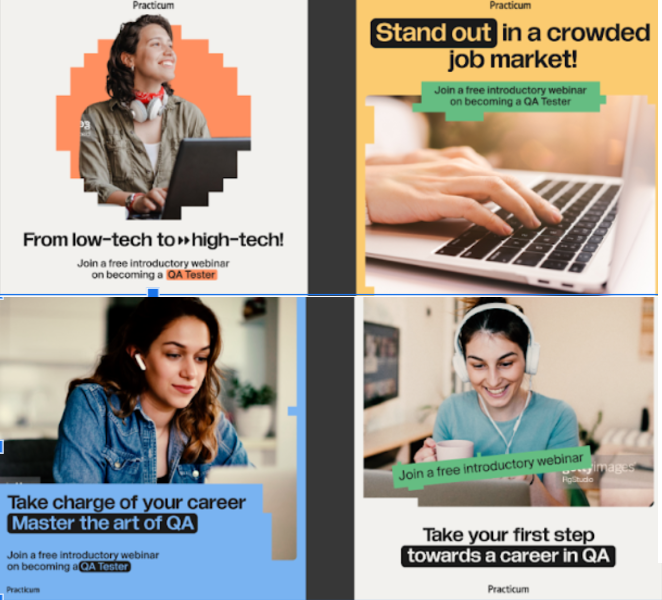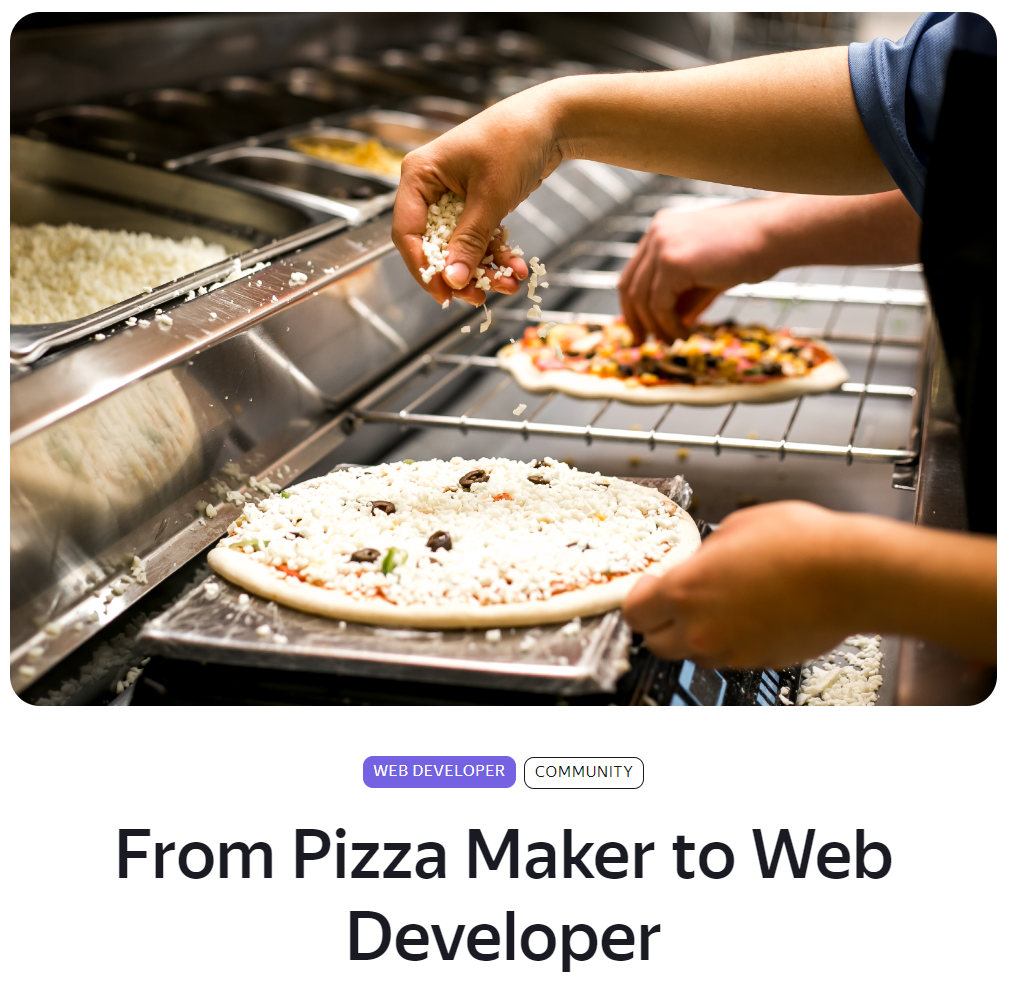 Blog post
TripleTen Israel also features a blog where they tell the stories of their former students. I assist them by proofreading and editing these texts.
These are samples of the type of copy I can write for your brand and company. I created this copy to demonstrate my skills. Some of the companies are made up, while others are real, but I created the ads on my own.
Emails
I imagined being a parent of a child who has recently bought a video game online. Since they are underage, the child needed parental permission to create an account and play the game. This is an email that is automatically generated for parents of young players.
It explains the game and points out the benefits the child will receive from playing, while also giving parents more resources to learn about the company's policies and the game.
I chose "The Division," because I've played this game and thoroughly enjoyed it!
Created on Figma.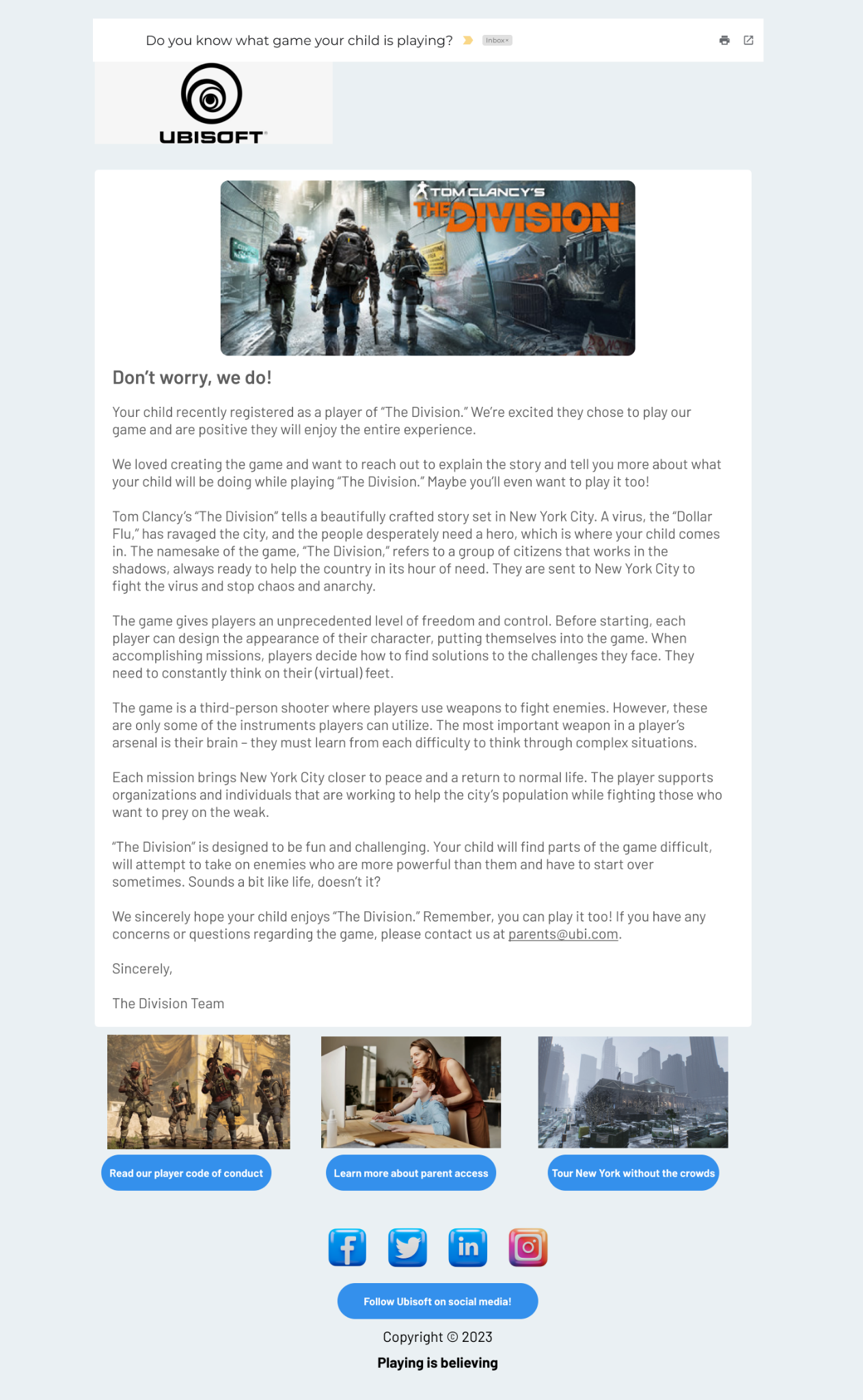 Facebook Ads
This is an ad for a company that does "odd jobs," which include yard work, house sitting, moving, and various repair work. The name comes from a "business" I had in high school where I completed odd jobs for people in my hometown.
Created on Figma.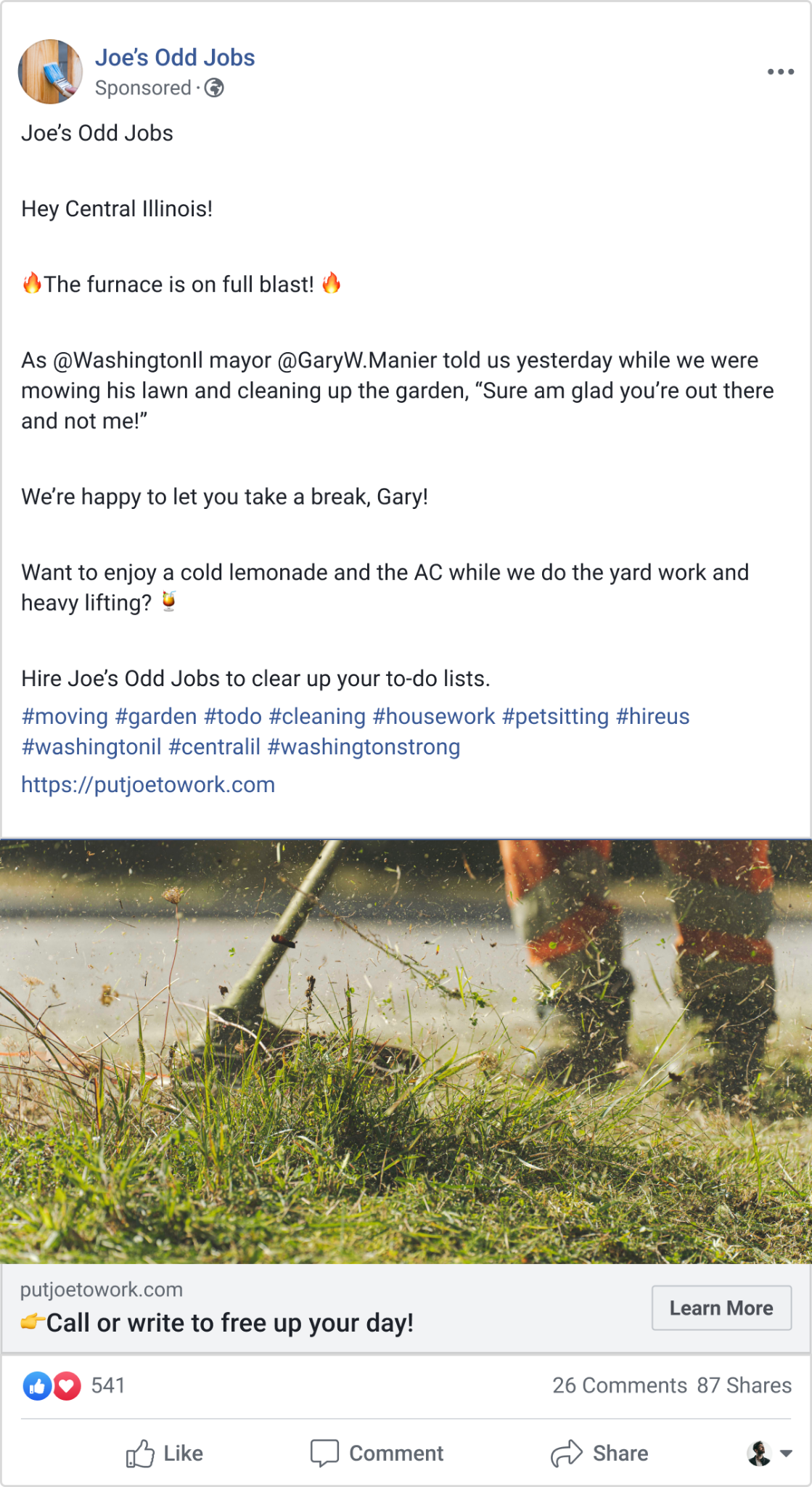 Instagram and Facebook Story Ads
This is an ad for a food delivery company advertising their services during times of extreme heat in their service area.

Created on Instagram.